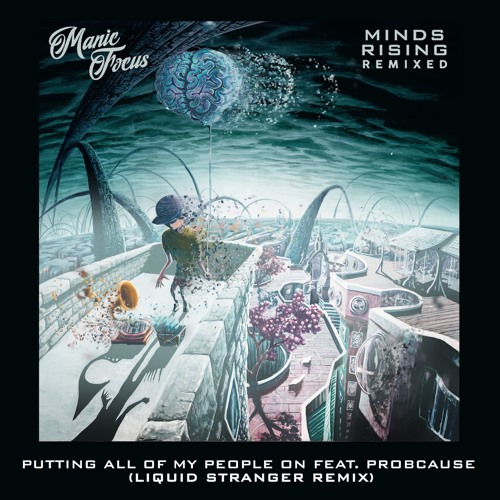 Liquid Stranger has just dropped his remix "Putting All My People On" f Manic Focus's upcoming remix album and it's a doozy.
Last year Manic Focus released his Minds Rising LP, which saw a number vocalist collaborations atop MF's tantric wobbles and stylistic drums.
Liquid Stranger's remix is also accompanied with news a full Remix Album featuring the likes SoDown, Daily Bread, Emancipator, R3AL, and more, as well as a string Spring Tour dates in Arizona, Wisconsin, Colorado, and more. See full info below.
Buy / Stream Liquid Stranger's Remix "Putting All My People On" here – https://manicfocus.fanlink.to/LSRemix
Mind Against Remixed Track List:
1.) Drop In (feat. Marvel Years & Chris Karns) (SoDown Remix)
2.) Putting All My People On Feat. Prob Cause (Liquid Stranger Remix)
3.) Joy In The Noise feat. Psalm One (Daily Bread Remix)
4.) Stochastic Resonance feat. Statik (Emancipator Remix)
5.) Snap Like This feat. Artifakts & Erick Jesus Coomes (Wick – It The Instigator Remix)
6.) Pushing feat Psymbionic (Rave Boar Remix)
7.) Rage Fits Perfect feat. The MFin' Band (SunSquabi Remix)
8.) Habit feat. Russ Liquid & The Rapper Chicks (Megan Hamilton Remix)
9.) Stronger feat. Late Night Radio, Jennifer Hartswick, Adam Deitch (Cresi Remix)
10.) Timeless feat Carlile (Edamame Remix)
11.) Sowing My Zone feat. Ryan Viser (GoodSex Remix)
12.) Your X Now feat. Exmag & Borahm Lee (LWKY Remix)
13.) *BONUS TRACK* – Pushing feat. Psymbionic (R34L Remix)
Manic Focus 2018 Tour Dates:
April 19 – Cavalier Theater – La Crosse, WI
April 20 – The Bourbon – Lincoln, NE
April 21 – Majestic Theatre – Madison, WI
April 27 – Shady Park – Tempe, AZ
May 11 – Central Park – Atlanta, GA
May 26 – Red Rocks Amphitheatre – Morrison, CO